Corporate Gifts and Big Boys Toys
"The only difference between men and boys,
is the price of their toys....."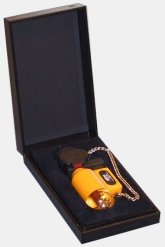 Our Blue Flame products are frequently used as high quality corporate gifts. Technical oriented people love to receive one of our soldering micro torches. For more product information, please refer to our Professional Tools Section. In addition, our multi-purpose PB207 Pocket Torch lighter caters to both cigar aficionado's and elder boys.  

Printing and customizing is carried out by specialized partners, mostly in close co-operation with the customer's ad agency. Boxes and products can be inprinted, and for larger quantities of 5,000 pcs upwards, we can fully customize our products. Please contact us for the possibilities regarding our Big Boys Toys.